RECTUITMENT IN 2021: More Than Just Video Interviews
The coronavirus crisis caused much financial and health-related damage, but also served as the CEO of Innovation for many organizations. Many digitizing processes that management had no time to deal with were suddenly and urgently put on the agenda, and were brought to life at surprising speeds.
We are starting to notice the end of the coronavirus crisis, yet digitized processes involving online trading, the way we conduct meetings and student recruitment are definitely here to stay. You might say they came for the coronavirus and stayed for the comfort and efficiency.
2021 Recruitment Process: More Than Just Video Interviews
The immediate influence of the coronavirus on the field of job market recruitment was the ability to interview candidates face-to-face, and the solution was video calls. Surprisingly, one of the repercussions of transferring to remote interviews was a reduction in the interviewees' stress levels. Why? Because some of their fears have nothing to do with the interview itself, but rather technicalities such as choosing what to wear, overall body language, being late due to finding parking or locating the office, etc. Zoom interviews may reduce those fears.
Research by JPD asked: what do interviewees fear during job interviews?
On the other hand, lowering interviewees' anxiety increases that of the interviewers, since they are denied the option of examining their interviewees' appearance, body language and overall conduct. To cover for that lack, certain organizations have added additional filtering mechanisms which allow you to get more information about the applicants to aid in making the decision.
One of these filtering mechanisms is the use of smart questionnaires and forms, which help you learn more about the candidates.
Questionnaires and Forms: How to Gather Essential Information about Applicants
"Ya'ad Israel" is a tourism company that operates a large array of programs, mostly dealing with large groups of Jewish youth from the US who arrive in Israel for long-term programs. Naturally, the company's activity also includes massive recruitment of tour guides, road instructors and social guides for specific times and groups.
Recruiting, sorting and training these instructors and guides consists of several encounters: meet and greet, in-depth interviews, orientation days, etc. What can we do at a time where we cannot hold these encounters and meetings? Sure, we can have them online; but this does not allow you to get in-depth knowledge of the applicants – a type of acquaintance that is essential for this type of role. The model of remote interviews also doesn't allow you to understand your applicants' strong suits and preferences in choosing their problem-solving ways, things you would examine while interviewing them.
The solution we offered "Ya'ad Israel", in collaboration with The Grinder content company, was building a digital array that could replace and improve certain stages of the process using sorting and gamification. For instance, potential candidates were given a recruitment and placement questionnaire as early as the initial stage of recruitment, that would allow building a database of guides and instructors which could then be segmented according to skills, preferences and practical experience. Later in the process, the applicants would also go through online training using study units, like the ones we constructed for the Israeli Congress.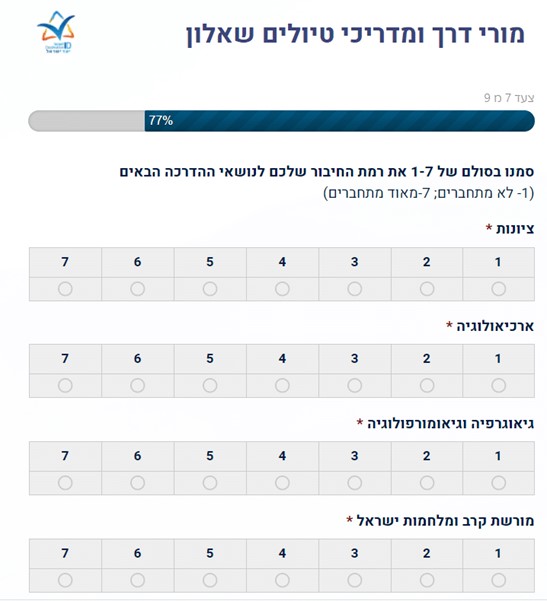 While there is also a Zoom meeting or practical encounter at the end of the process, the preliminary acquaintance between interviewer and interviewee, through the data from the questionnaire, allows them to focus the conversation topics and interview questions. The bonus is a database of guides and instructors to turn to, based on their compatibility with the group's style, interests and more.
Similar models were also applied while recruiting professionals in academia and advertisements, as well as recruiting volunteers for organizations in the Third Sector.
Process Mapping: the Way to Construct a Digital Recruitment Array
Each organization or company has a different recruitment array, with different stages and emphases, and they can each use digital tools tailored for them, which will help them improve and focus their recruitment processes, even post-coronavirus.
To inspect how digitization can help you with recruitment processes, some due diligence is in order:
1. Defining recruitment needs and goals, including segmentation of various roles.
2. Mapping recruitment processes, their goals and values for the organization.
3. Constructing an ordered flow and choosing the parts in which digitization is relevant.
4. Suggesting a plan based on budget and timetables.
5. Initial application with strict follow-up and necessary optimization.
6. Implementation in the recruitment process.
In our experience, the act of mapping the recruitment process of the organization reveals its strengths and weaknesses, and refreshes the way in which the company or organization treats their selection of employees. Furthermore, beyond the improvement of the process, the information gathered by the organization during the digital recruitment process provides the HR department with significant insights, allowing it to learn and improve.
In need of employee recruitment and an improved sorting process? We'd love to meet you.
Today's world of marketing has arrived at a fascinating junction, one in which AI edge technologies and machine learning help neuromarketing, psychology, and behavioral economics understand consumer behavior.
We exist at the very center of this junction, connecting technology with psychology, automation with individual choice, and data with content that motivates consumers to act.